Description
Cytron G15 Shield is a shield for controlling Cytron's G15 Cube Servo and servo motor. It is compatible with Arduino UNO, Arduino Duemilanove, Arduino Mega, Arduino Leonardo and possibly another pin compatible mainboards.
This is the v2.0 of Cytron G15 Shield which includes some of the advantages over the Cytron G15 v1.0 Shield.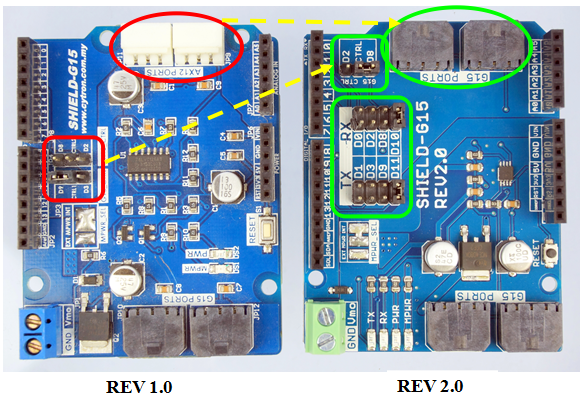 This shield has four ports for Cytron's G15 Cube Servo. G15 is the serial servo. Hence more than one servo can be daisy-chained in series. The user may choose to supply the servo motor from Arduino's VIN or the External Power port of Cytron G15 Shield. It also has stackable side headers which allow other Arduino shields to be stacked on top of it.
We have developed the library and example sketch for G15.
This shield is specially designed for driving Cytron G15 Cube Servo, you can buy this servo buy clicking on the name below
G15 Cube Servo 6-18V DC 360⁰ Rotation Servo Motor
---
Features :
Arduino reset button

4 x G15 Cube Servo ports.

External power port for a servo with polarity protection

Stackable I/O header pin

Selectable digital pins for the control pin with mini jumpers

TX and RX indicator LEDs to show communication activities, only on Rev2.0.

Selectable Serial pins, Either hardware serial or software serial via mini jumpers, only on Rev2.0

2 LEDs as logic and servo power indicators
---
Package Includes :
1 x Cytron G15 Shield