Description
Virtual VRS52H-S-DC5V-C Relay plastic enclosed isolated switching step-down power supply module. It can supply 5V DC from  120V AC – 230V AC and has a power rating of 3 Watt. This makes it perfect for small projects that need a 5 volt supply from mains. There are many advantages for these relay, such as low-temperature rise, low power, high efficiency, high reliability, high-security isolation, etc. It is widely used in a smart home, automation and control, communication equipment, instrumentation, and other industries.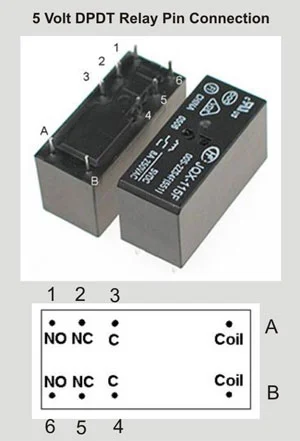 This relay is a DPDT type relay. Pins may vary according to a different manufacturer, so Multimeter testing is necessary to confirm the pins before connecting the load.
Multimeter testing:
1. Test the resistance between pins A and B.  If it shows resistance value, the Pins are Relay coil pins
2. Test other pins for continuity to confirm NC, NO, and Common.
---
Specifications and Features:
All voltage input (AC: 90 ~ 264V)
Low ripple and low noise
Output overload and short circuit protection
High efficiency, high power density
The product is designed to meet the requirements of the EMC and Safety Test
Low power consumption, environmental protection, no-load loss <0.1W
Operation Temperature: -20 to +60°C
Store Temperature: -40 to +80°C
Relative humidity: 5 to 95%
Rated input voltage:100-240VAc
Maximum input current: <2A
Input current surge: <10A
Maximum input voltage: 270VAc
Input Low Voltage Efficiency: Vin=110VAc, Output full-load: 69%
Input High Voltage Efficiency: Vin=220VAc, output full-load: 70%
Long-term reliability: MTBF 100000h
---
Package Includes:

1 x Virtual VRS52H-S-DC5V-C Relay