Description
3.5inch Resistive Touch Display (B) For Raspberry Pi, 480×320, IPS Screen, SPI
3.5inch RPi LCD (A) and 3.5inch RPi LCD (B) are hardware compatible with each other (uses different driver), and can be mutually substituted in most cases. (A) for low-cost while (B) for IPS  with better displaying.
3.5″ Touch Display
Display Viewing Angle 
Touch Control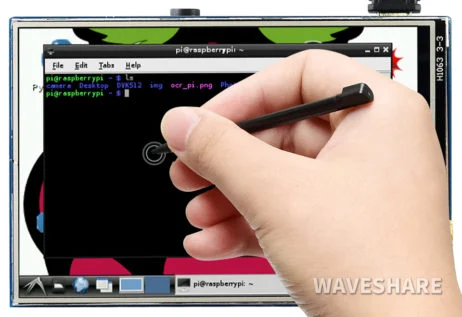 Appearance And Dimensions
---
Features: 
480×320 hardware resolution
Resistive touch control

Consumption: 

Lower Power

It is compatible and can be directly inserted in any version of Raspberry Pi.
IPS screen with large viewing angle and outstanding display effect.
Drivers provided (works with your own Raspbian/Ubuntu/Kali and Retropie system directly)
Support FBCP software driver, can set the software resolution and dual screen display.
Gold sinking process, fine carving.
---
Package Includes:
1 x 3.5inch RPi LCD (B)
1 x Touch pen
1 x RPi screws pack (2pcs)
1 x Quick start sheet