Description
Would you like to have a colorful flashing LED in your project dashboard? Of course! Then, the Grove – Multi Color Flash LEDs (5 mm) is perfect for you. It produces light radiation of various colors such as red, green, blue, and white. With two mounting holes on the PCB and a grove connector, this product is very easy to use. Its ingenious PCB design enables you to bend the LED to any position you want and that's why you can use the LED in standalone, horizontal or the Panel Mount position (as shown in the following image from left to right). You can use the LED in any of these positions you want!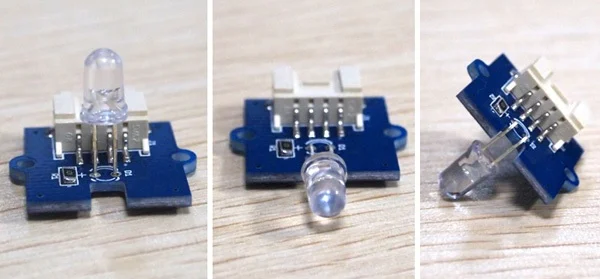 You won't need to have separate LEDs for each color when you are using this LED. Just one LED can produce multicolor lights in your projects and you can also buy many of these Grove – Multi Color Flash LEDs to make your project more interesting with colorful lights.
For all Grove users (especially beginners), Seeed Studio provides guidance PDF documents. Please download and read through Preface – Getting Started and Introduction to Grove before using the product. This is a suitable product for not only Grove users but also all electronic enthusiasts. So, why wait? Buy now!
---
 Features:
Operate Voltage: 3.3V/5V
Emitting color: Multi-color flash
Easy to use
---
Useful Links:
Tutorial
---
Package Includes:
1 x Grove – Multi Color Flash LED (5 mm)