Description
The SmartElex Dual Channel Battle Relay is the radio controlled 10A-maximum relay version known for its comprehensive control applications for any device that can be triggered by the switch.
The battle relay is the switch that can be toggled by the radio controller to control glow plugs, BattleBot and also high powered lighting systems for large RC aircraft, boats, cars etc. As compared to the other battle relays used for the same application the SmartElex Battle Relay can stand up for performance and reliability very efficiently.
SmartElex Battle Relay is equipped with the wear resistant screw terminals through which you can connect the load that you wish to control by the toggling the switch and connecting the load is also so easy. By moving your radio's control stick up or down, left or right and through any method you desire, you will be able to control the behavior of the relay very easily.
The SmartElex Battle Relay has three LEDs as Two Status LED & Power LED. Status LED shows the status of relay ON/OFF. You can activate control applications with voltage levels as high as 240VAC without having to know anything about microcontroller logic levels or transistors because the relay offers full electrical isolation from your receiver electronics.
You won't find any switch as powerful and efficient as SmartElex Battle Relay.
Applications:
Powerful auxiliary weapons control in RC combat.
Glow plugs control in RC nitro vehicles.
High powered lighting systems control on large RC aircraft, boats, cars.
Domestic appliances and home automation control.
Non-critical automotive electronics control such as glow wire.
Connection Diagram :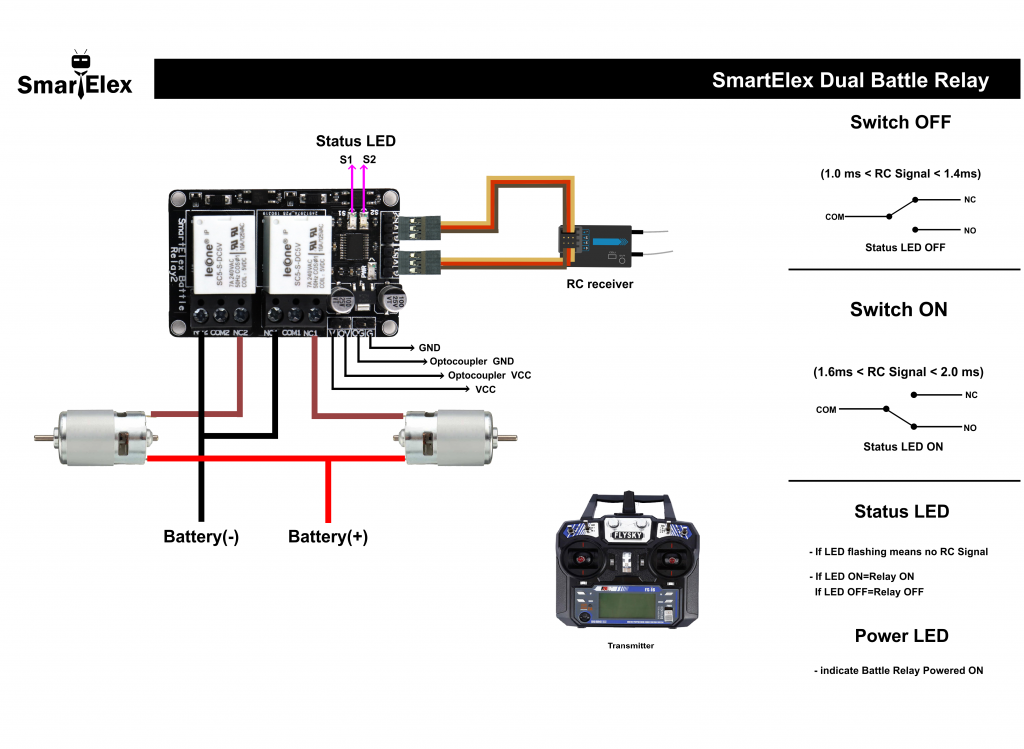 ---
Features :
Max current and voltage:
Relay resistance: 100 mΩ max
40mA typical draw from the receiver
Dual Channels means it can drive two brush motor independently, or mixed.
Support up to 10A maximum current at room temperature.
---
Package Includes :
1 x SmartElex Dual Channel Battle Relay.