Description
SkyRC PC1260 is a dual-channel 12S LiPo charger for industrial application drones. It is reliable, safe and easy to operate while with comprehensive functionality, like battery voltage meter, internal resistance meter, LiHV charging mode, also time-saving synchronization mode.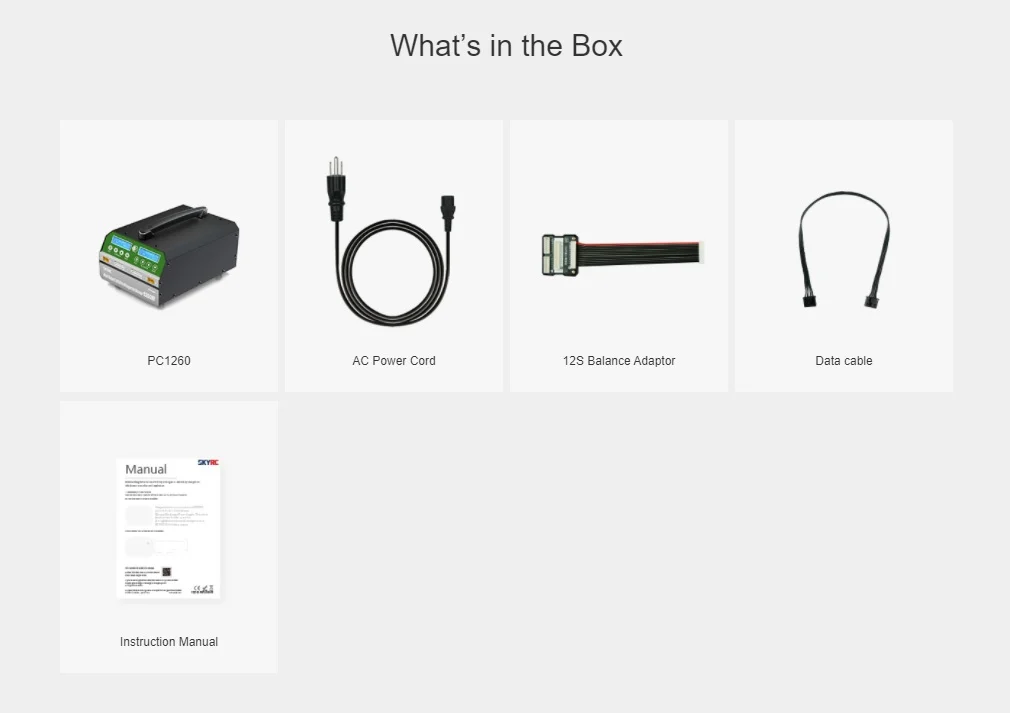 This charger is capable of balance charging 2 packs of 6 cell batteries simultaneously. It is specifically designed for the big battery pack.  The charger is equipped with a master-slave control mode, which allows you to synchronize more than one charger when charging the same batteries. It uses an advanced 32bits high-speed CPU from STMicroelectronics which improves its processing capability by 20 times.
---
Features:
Sophisticated industrial and mechanical design
Advanced 32bits high-speed CPU from STMicroelectronics, processing capability 

improves 20 times.

High-Frequency Capacitor: Using a high spec large capacitor, ensures the charger can work properly for a longer 

period of time.

Active PFC:

 Active PFC uses circuitry to correct the amount of power drawn to obtain the best ratio of power factor, achieving high efficiency, 93%. Which makes the product more stable and reduces the interferences to the 

power grid.

Switched-mode Power Supply: Accepts power from mains supplies throughout the world.

Conformal Coating: 

The conformal coating helps electronics withstanding harsh environments, and protects them against moisture, dust, chemicals, corrosive attack and temperature extremes etc.It also ensures PC1260 having stable 

performance in the field.
---
Package Includes:
1 x SKYRC PC1260 Dual Channel 12S LiPo Battery Charger
1 x AC Power Cord
1 x 12S Balance Adaptor
1 x Data cable
1 x Instruction Manual