Description
One more Addition to SmartElex Smart motor Driver series is 15D is a dual channel motor driver which is made capable of supplying 15 amps continuous with peak currents up to 30 amps (10Sec) per channel.
The Driver can be operated on radio control, so no more interfacings and an additional connection are required analog, TTL serial and PWM. A variety of operating modes including with mixed and independent mode in radio to operate the driver remotely.
It comes with analog and in PWM mode for operation. Switching between radio controls and PWM mode or switching between any of 4 modes can be done with onboard  4 position DPDT mode switch. MOSFETs are switched at 16 KHz to ensure quiet operation and no annoying whining sound. Besides, it also equipped with a microcontroller unit to provide smart features such as multiple input modes and current limit and thermal protection.
Additionally, The Driver is equipped with temperature control feature where If the temperature of the board reaches 80 degrees then motor speed becomes half and speed will be normal once the temperature reaches below 70 degrees. The motor driver will be shut down at 100 degrees.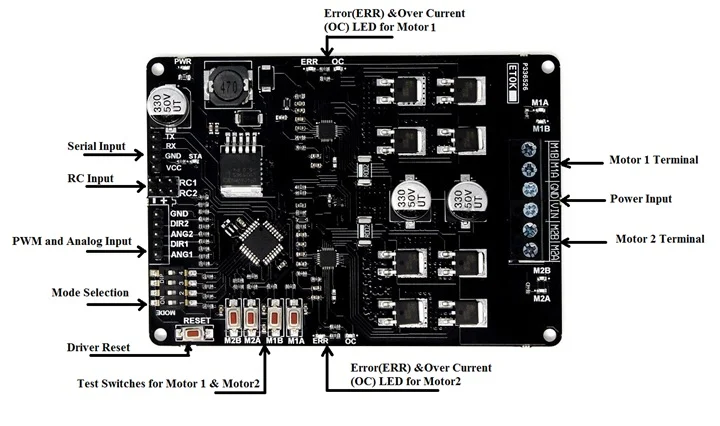 To know more about the motor driver, refer to this article. How to operate the SmartElex Motor Driver in RC Mode
---
Features:
Supplying 15 amps continuous with peak currents up to 30 amps (10 Sec) per channel
Support motor voltage from 7V to 28V.
Onboard Low, Internal resistance MOSFETs are switched at 16 KHz frequency.
Overcurrent protection and indication.
Thermal protection.
Multiple input modes: RC, Analog, PWM, Serial Packetized.
On board push buttons for test and manual operation.
---
Package Includes:
1 x SmartElex 15D Smart Motor Driver
1 x Connecting Cable