Description
Do you want a device for sensing human movements? We have a sensor for it, Grove – Mini PIR Motion Sensor v1.0. PIR stands for Passive Infra-Red. PIR sensor measures infrared (IR) light radiating from objects in its field of view. You can use this sensor in various motion detecting applications such as alarm burglar systems, visitor presence monitoring, light switches, and robots. Just simply connect it to Grove – Base shield and program it. When anyone moves in its detecting range, the sensor will output HIGH on its SIG pin and will give an indication of the movement.
Grove – Mini PIR Motion Sensor is compact, cost-effective, and has low power consumption; moreover, this sensor has adjustable sensitivity and there is a reserved pin out on the back of the board so that you can solder a slide rheostat to adjust the sensitivity. If you think the sensitivity is not enough, here is a trick for you. Drag the plastic cap a little up and it will help enhance the sensitivity. The detection distance in the datasheet is up to 3m to 5m, however, 2m is the recommended detection distance and also 25℃ is the most suitable temperature. It is completely suitable for applications with relatively fewer detection distance requirements and you can use this sensor in various applications such as Motion Sensor/Detector System, Security Alarm System, and Human Detection System.
For all Grove users (especially beginners), Seeed Studio provides guidance PDF documents. Please download and read through Preface – Getting Started and Introduction to Grove before using the product. This is a suitable product for not only Grove users but also all electronics enthusiasts. So, why wait? Buy now!
---
Note:
1. Grove – mini PIR motion sensor will work with the same library as Grove – PIR Motion Sensor. So, please refer to the wiki page of Grove – PIR Motion Sensor and download the library from there to get started with this sensor.
2. Please note that the orientation can influence the sensitivity, for more accurate detection, please place the sensor as the picture below.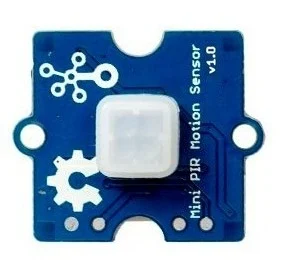 ---
Features:
Low power consumption
Compact size
Cost-effective
Adjustable sensitivity
Grove compatible interface
---
Package Includes:
1 x Grove – Mini PIR Motion Sensor v1.0