Description
ZY – 201 Solderless 830 Hole Bread Board with Binding Post – BLACK having Article two terminal, High-Quality DIY  830 Points Solderless, three distribution rule, three terminal · Bottom: black aluminum plate · Phosphor bronze nickel plating spring clip · Matching jumper wire, wire diameter 0.8 mm.
Solderless breadboards are commonly used for prototyping because they allow you to quickly build temporary circuits without soldering. Breadboards accept most through-hole parts and up to #22 wire. When you're done or want to change your circuit, it's easy to take your circuit apart.
For best results, use solid wires when breadboarding; you'll find pre-cut jumper wire kits and premium jump wires especially convenient. This small board is compatible with the Arduino proto shield and is available in assorted colors:
This 21 cm × 6 cm solderless breadboard has enough for up to two 14- or 16-pin DIP ICs. Although it is difficult to see in the pictures, the rows and columns are conveniently labeled. The board features an adhesive backing and two mounting holes, and tabs allow multiple units to be connected to larger projects.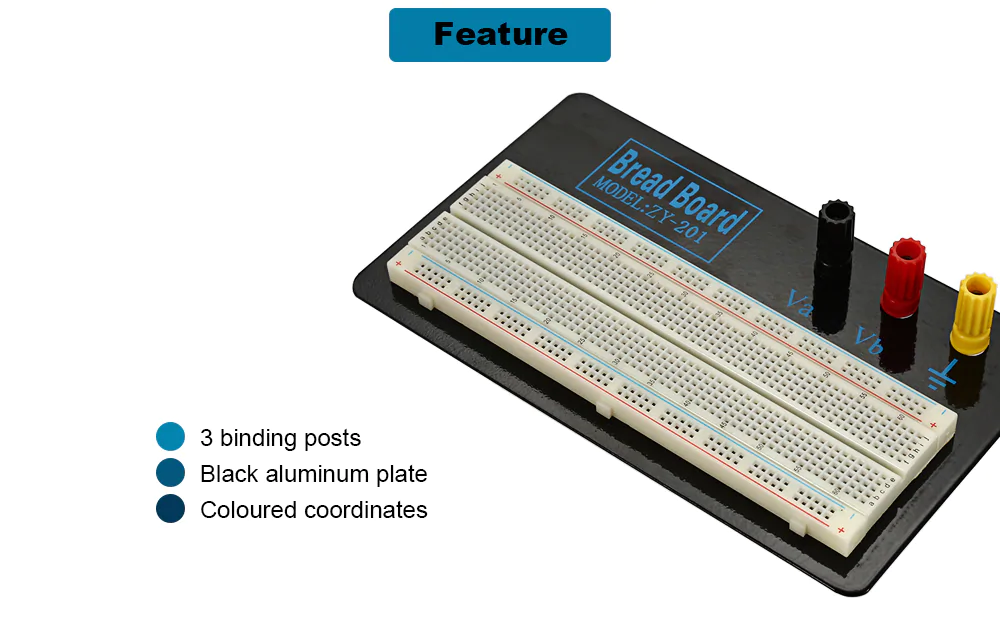 ---
Specifications and Features:
Terminal strip: tie-point 630
Distribution strips: tie-point 200
Material: ABS plastic
Completely reusable
Colored coordinates for easy component placement
Accepts a variety of wire sizes (AWG: 20-29)
Excellent for DIY projects, prototyping and experimenting
Features: recycling, Color clear structure, easy to use.
---
Package Includes:
1 x ZY-201 830 Points Solderless Breadboard