Description
Hey geeks, here is one more revolutionary product in the Waveshare E-paper display range. This is an NFC-powered 1.54inch e-Paper Module, with a 200×200 resolution that takes data like images, text, or any craft you want to show on your display wirelessly via NFC. It can be done through the mobile phone itself via android and ios app.
Scan the below QR code and get the latest NFC app for your android phone
1.54″ 

Passive NFC-Powered

 E-Paper
Rounded Metal Border, Nice Looking, Stunning Quality
Red / Black / White Three-color Displaying
Wireless NFC-Powered Display Refreshing
Passive NFC Solution, No Battery Required, No Messy Wiring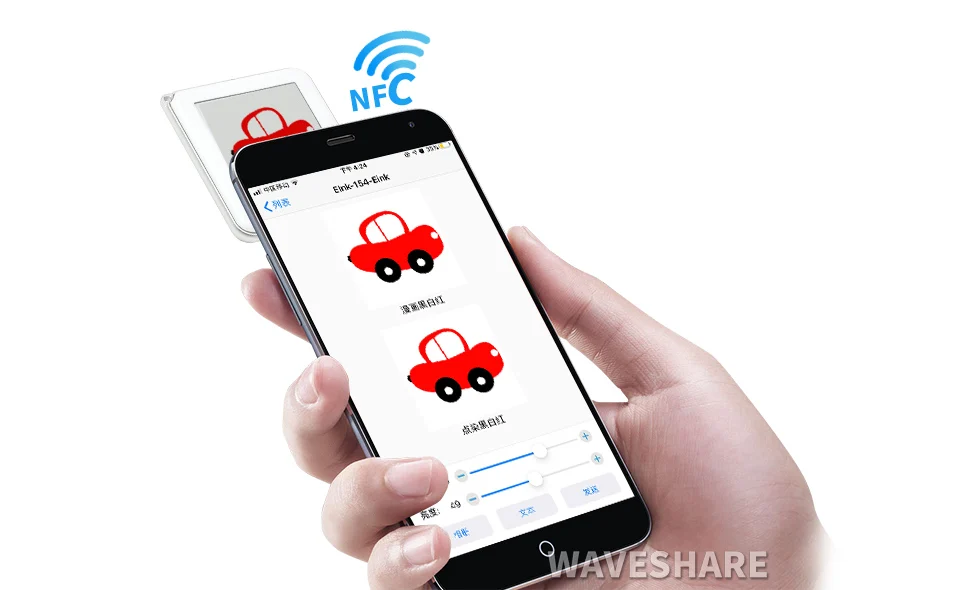 How It Works
Wireless Powering & Data Transfer
To Refresh The Display Content, Use A Smart Phone With NFC Function, Or An NFC Reader, Close To The E-Paper, It'll Be Done In A Few Seconds
A Born Hanging Ornament
Features Corner Hang Hole, Ideal For Handbag Decoration, Key Fob, Etc.
Application Examples
Suitable For Smartphone / Key Fob, Contact Card QR Code, Hanging Ornament…
Outline Dimensions
The best part is as it is an e-paper display this display doesn't require any power to operate
if you don't have NFC enabled phone, no need to worry. You can do it via NFC writer.
---
Features: 
No backlight required, e-Paper keep displaying the last content for a long time without power
No power adapter required
You can modify the display content by smartphone
Compare with ABS case
App is provided
---
Package Includes:
1 x 1.54inch NFC-Powered e-Paper (B)