Description
This is a binocular camera-based board that is designed for Raspberry Pi Compute Module 4. Two IMX219 800MP cameras are integrated for stereo vision projects. An interface expander board is optional for connecting other accessories.
                                                                                                                                                             Dual camera base only
Standard CM4 socket, dual cameras onboard, supports video output for all CM4 variants, along with networking and USB connectivities.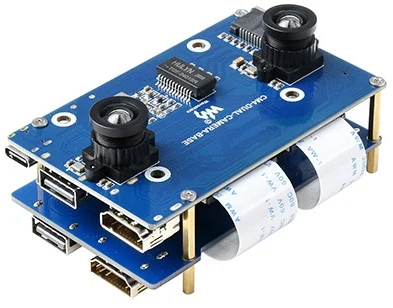 Dual camera base + Interface expander
Comes with an additional interface expander, providing a standard 40PIN GPIO header for HATs, M.2 slot for SSD or communication module, and more video/USB ports.
---
Application:
Intelligent traffic: Detection and recognition for motor vehicles, non-motor vehicles, pedestrians, traffic signs, traffic events…
Intelligent driving: Recognizing and ranging around vehicles and road conditions, recognizing the driver status and providing intelligent assistance.
Math contest: Suitable for teaching competitions like robotic vision, OpenCV, AI IoT projects, Python programming, and so on.
Robotics: Used on industrial robots field, enabling robot functions like target identification, positioning, size measuring, binocular depth mapping, navigation…
AI: For AI Applications Like Vision Robots, Depth Vision Projects, Stereo Vision Projects…
---
Specification:
1 CM4 soclet Suitable for all versions of Compute Module 4
2|HDMI connector supports 4K 30fps output
3 USB 2.0 port for connecting sorts of USB devices
4 PWR & USB USB-C connector, 5V DC power supply or USB programming port
5 BOOT selection ON: CM4 will be booted from USB-C interface
OFF: CM4 will be booted from eMMC or Micro SD card
6 CM4 status indicator PWR: Raspberry Pi power indicator
ACT: Raspberry Pi operating status indicator
7 RJ45 Gigabit Ethernet 10/100/1000M compatible
8 Micro SD card slot for connecting a Micro SD card with pre-burnt image (Lite variant ONLY)
9 GPIO FFC connector for expanding 40PIN GPIO
10 HDMI & PCIe & USB FFC connector for expanding HDMI1, PCIe, USB
11 Dual cameras IMX219, 8MP
1 USB 2.0 port for connecting sorts of USB devices
2 HDMI1 connector supports 4K 30fps output
3 HDMI & PCIe & USB FFC connector for expanding HDMI1, PCIe, USB
4 GPIO FFC connector for expanding 40PIN GPIO
5 40PIN GPIO header for connecting sorts of Raspberry Pi HATs
6 M.2 M KEY for NVME SSD, or communication module with PCIE M.2 M KEY interface
7 M.2 indicator indicating operating status of the interface
---
Package Includes:
1 x Dual camera base
1 x Screws pack
1 x OPTIONS Interface expander
2 x OPTIONS FFC