Description
We understand our maker's needs and consequently adding the most improved and powerful motor drivers with the latest features to provide a great utility that makes it useful for a wide variety of mechatronics. Here is all new SmartElex 10D Dual Channel High Current Motor Driver with Arduino UNO specifically designed for mobile robots.  It can be used in a wide range of applications such as in racing robots Combat robot, Robot Rumble and many more.
UNO + 10A dual channel with Atmega328P chip which is the same microcontroller on official Arduino UNO where you can select Arduino/Genuino UNO in Arduino IDE to develop the program.
With onboard 5V 3A buck converter power supply and a wide range of motor operating Voltage, the driver performs very dynamically in small brushed motor applications as well as heavy 10A continuous current motors which can be raised up to 30A which is not possible in normal specific rating drivers. Additionally, Current Limiting and Temperature control feature always drive your application in safe mode.
The board incorporates most of the components of the typical applications with the minimum interface, the board is ready to Plug and Play. Simply add in power, do simple coding and this board is ready to drive brushed motor. It also offers several enhancements such as support for both locked-antiphase and sign-magnitude PWM signal as well as using full solid state components which result in faster response time and eliminate the wear and tear of the mechanical relay and reduce the time for wiring.
Note: This product is also available in green colour which will be shipped randomly.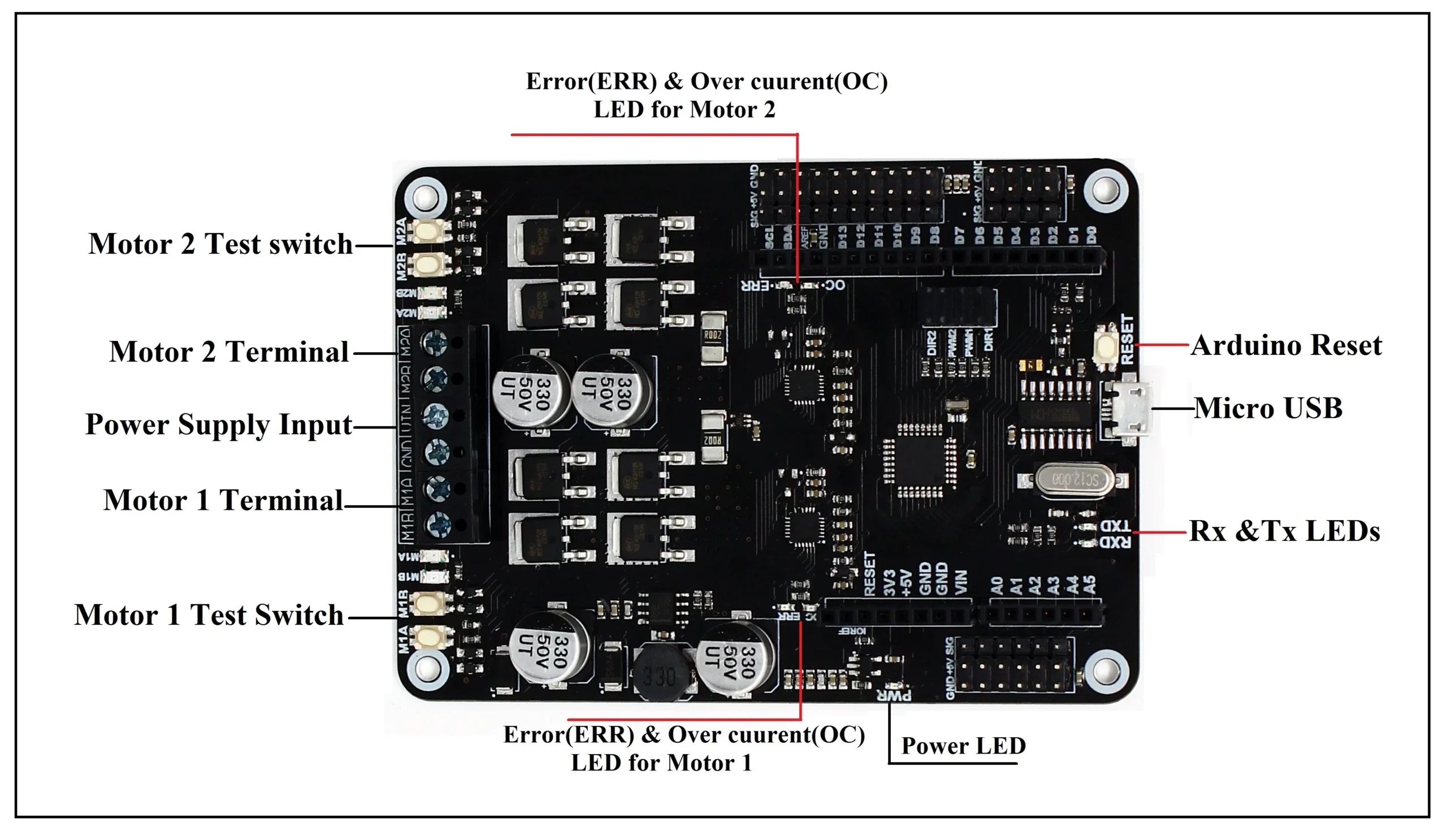 Jumpers Connections:
| | |
| --- | --- |
| Arduino Pins | Motor Driver Pins |
| D4 | DIR1 |
| D5 | PWM1 |
| D6 | PWM2 |
| D7 | DIR2 |
| A6 | Temperature Sensor |
Some basic information about motor drivers, their controlling modes, and a comparison table is provided in this article. Click here to read.
---
Features:
Wide 7V to 28V motor Operating Voltage.
On board 5V 3A Buck Converter.
Continuous 10A maximum current without Heatsink and 30A peak current for 10
Two brushed DC motor Bidirectional control.
Current limiting at 35A.
PWM frequency up to 32KHz
Onboard Temperature Sensor
Internal thermal shutdown
Under-voltage lockout
PWM and direction controlled driving of four externally powered NMOS transistors
3V and 5V logic level input.
---
Package Includes:
1 x SmartElex 10D Motor Driver for Arduino UNO