Description
Compute Module 4 POE Board is a baseboard that can be used with Raspberry Pi Compute Module 4, and supports POE power supply and 7~36V DC power supply, with four onboard USB2 .0 for user convenience.
User Guide: 
Confirm the fan voltage before connecting, it support 5V and 12V. if you want to connect 12V by default, please modify the jumper cap of FAN_VCC
USB Type C interface is used as the USB SLAVE interface to burn the image, and it can also be used as the power supply interface, but cannot be used as the OTG interface.
The BOOT switch is for CM4 startup mode, the ON for CM4 to enter the programming mode, and the OFF for system to starts normally.
In normal use, it is necessary to provide at least 5V 1.5A power supply for CM4. Otherwise, there may be problems such as automatic shutdown, frequency reduction and so on.
USB2.0 is closed by default, if you want to open it, you need to add dtoverlay=dwc2,dr_mode=host in config.txt
When using the POE function, pay attention to check whether the switch supports PoE of the 802.3af network standard.
When you need to use POE, connect the POE jumper cap to the EN position.
The Change LED light is the charging indicator, it is always on when charging, goes off when fully charged, and flashes when it fails.
Multi Power Supply Options
Dynamic Path Management, More Stable Power Supply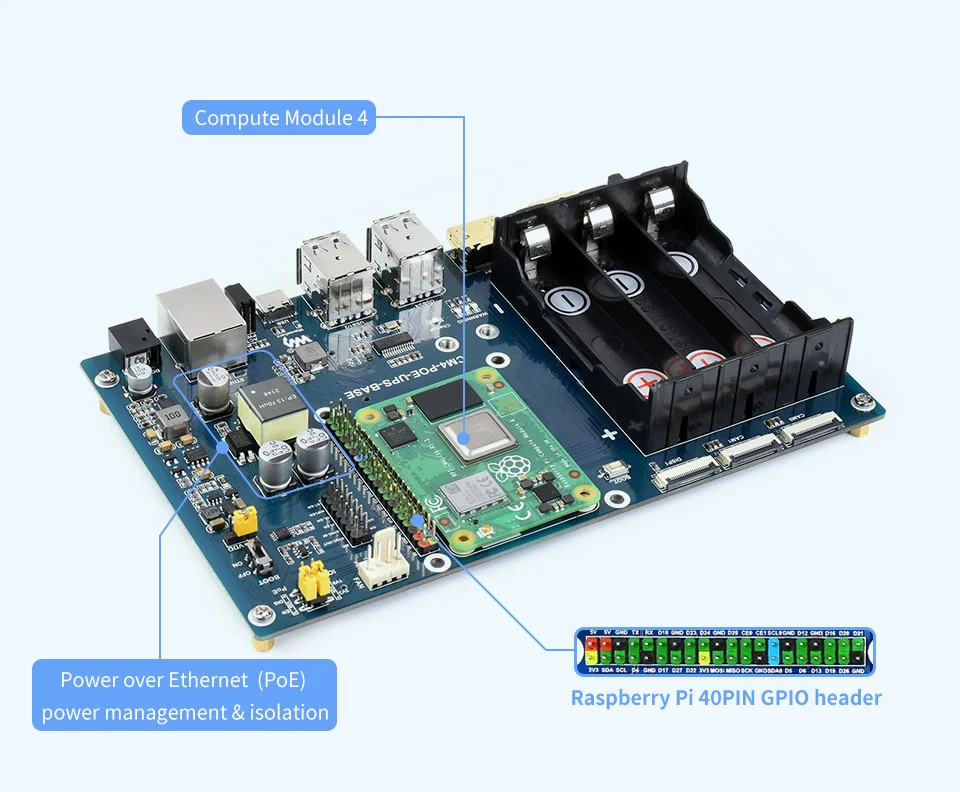 Dimensions
---
Features:
H.265 (HEVC) (upto 4Kp60 decode), H.264 (upto 1080p60 decode, 1080p30 encode)
OpenGL ES 3.0 graphics
Options for 1GB, 2GB, 4GB or 8GB LPDDR4-3200 SDRAM with ECC (see Appendix B)
Options for 0GB (CM4Lite), 8GB, 16GB, or 32GB eMMC flash memory (see Appendix B)
Peak eMMC bandwidth 100MBps (four times faster than previous Compute Modules)
Gigabit Ethernet PHY supporting IEEE 1588
2 × HDMI 2.0 ports (up to 4Kp60 supported)
Three external power supply options: USB interface, wide voltage DC, and PoE
When connected to the external power supply, the system will be powered and the battery will be charged at the same time, and the battery will be in a disconnected status after being fully charged, so as to avoid battery life damaging caused by frequently charging and discharging
When the external power supply is insufficient, the battery will provide power output together with the external power supply at the same time to ensure system normal operation
When the external power supply is connected, the system will keep running normally even when the battery fails or is taken out. When the external power supply is disconnected, it will automatically switch over to batteries output without interrupting the system operation
---
Specifications: 
POWER INPUT: 7-36V
STORAGE: MicroSD card socket for Compute Module 4 Lite (without eMMC) variants
FAN: allows speed adjustment and measurement, 5V / 12V
INDICATOR: M.2 status LED
CM4 status LED
CM4 SOCKET: suitable for all variants of Compute Module 4
BATTERY SUPPORT: parallel 18650 Li-ion battery × 3 (NOT included)
NETWORKING: Gigabit Ethernet RJ45 connector, integrates 802.3af-compliant PoE circuit (5V/2.5A)
USB: USB 2.0 Type A × 4
CONNECTOR: Raspberry Pi 40PIN GPIO header
M.2 M KEY: slot, for connecting NVME SSD, or communication module with PCIE M.2 M KEY interface
DISPLAY MIPI DSI: port × 1 (22pin 0.5mm FPC connector)
CAMERA MIPI: CSI-2 port × 2 (22pin 0.5mm FPC connector)
VIDEO HDMI: × 2, supports 4K 30fps output
RTC: Real-time clock with battery socket and ability to wake Compute Module 4
DIMENSIONS: 175.0 × 108.0mm
---
Packages Includes: 
1 x  Waveshare PoE UPS Base Board Designed for Raspberry Pi Compute Module 4, Gigabit Ethernet,