Description
If you want to Detect any Obstacle but don't know how to do it So, To overcome this problem, the only thing you should do is to get a Lidar sensor. Lidar is commonly used to make high-resolution maps, with applications in surveying, geodesy, geomatics, archaeology, geography, geology, geomorphology, seismology, forestry, atmospheric physics, laser guidance, airborne laser swath mapping (ALSM), and laser altimetry.
TFmini-S is a single-point ranging LiDAR based on the TFmini upgrade. The blind zone is shortened from 30cm to 10cm, the outdoor performance and accuracy of different reflectivity are improved. The distance range is not disturbed by ambient light, which can be consistent with the indoor range and the accuracy is further optimized. The error performance at 10% reflectivity approaches the background of 90% reflectivity, and the interface supports UART and I2C switching at any time. It can achieve stable, accurate, sensitive, and high-frequency range detection.
Note: This is the upgraded version of TF Mini.
To Explore More Lidar Sensors, Click here
---
Features:
Small size
Lightweight
Low power consumption
High frame rate(up to 1000Hz)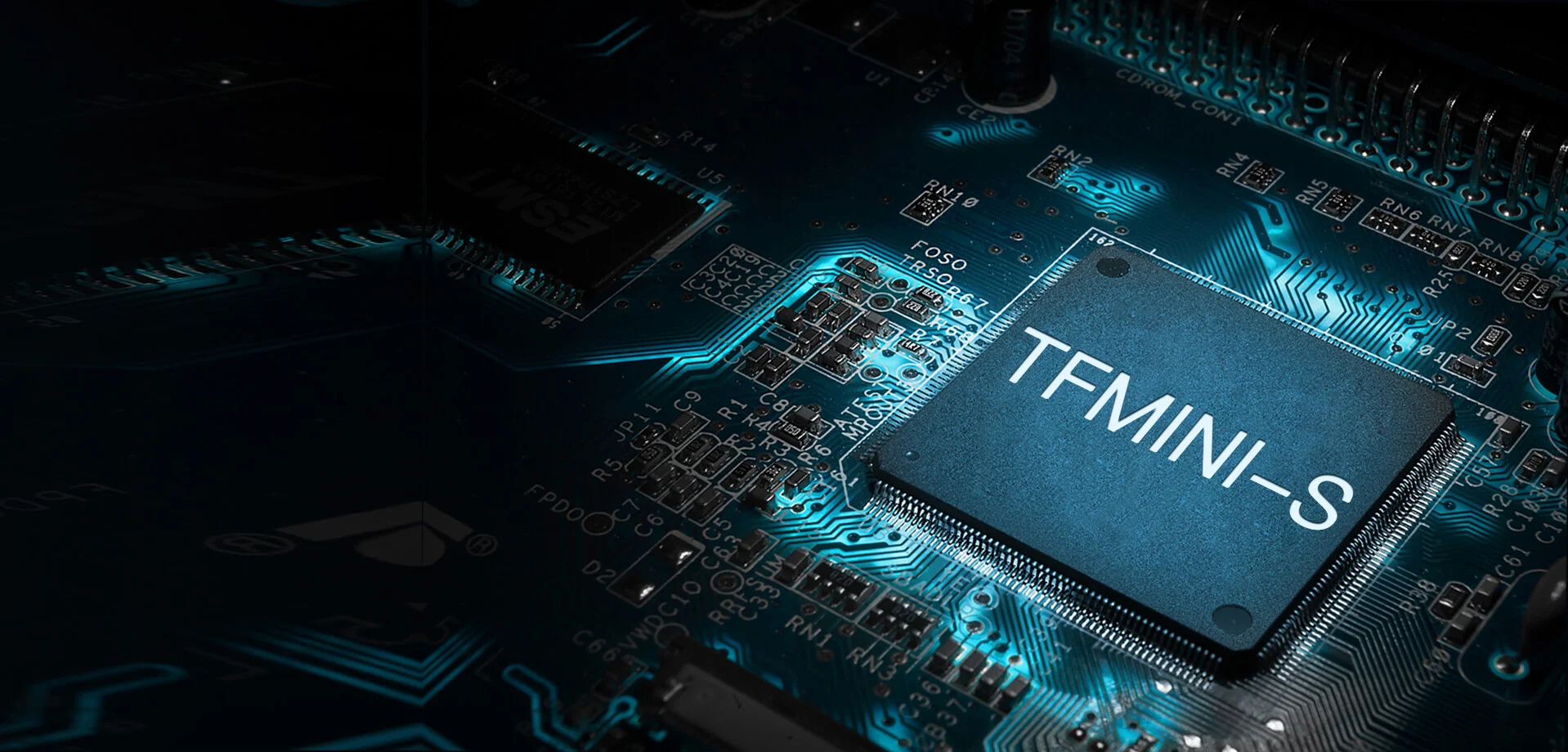 ---
Applications:
Unidirectional ranging LiDAR.
Obstacle avoidance.
Assisted landing.
Terrain following.
Robots outdoor obstacle avoidance.
Intelligent parking. Crane operations.
Vehicle position sensing.
Vehicle detection for barrier gate control.
High-precision & High-speed measurement.
Eye-safe infrared LED light.
Compact size, lightweight.
Good performance for height fixing and terrain-following drones.
Application Areas :
---
Different LiDAR Modules Offered by Robotools
The following table illustrates a comparison between the different LiDAR modules offered by us.
Parameters
TF-Luna
TFmini-S
TFmini Plus
TF Mini LiDAR
Operating Range
0.2m -8m
@90%reflectivity
0.1 m-12m
@90%reflectivity
0.1 m-12m
@90%reflectivity
0.3m-12m
5m@10%reflectivity
Frame Rate
1-125Hz
1-1000Hz
1-1000Hz
100Hz
Distance Resolution
1cm
1cm
1cm
1cm
Accuracy
±6cm@(0.2m-3m)
±2%@(3m-8m)
±6cm@(0.1 m-6m)
±1%@(6m-12m)
±5cm@(0.1m-5m)
±1%@(5m-12m)
1%(less than 6m)
2%(6m-12m)
FOV
2°
2°
3.6°
2.3°
Laser Wavelength
850nm
850nm
850nm
850nm
Light Sensitivity
70Klux
70 Klux
70 Klux
70,000lux
Output Data
Single-point,
distance value
Single-point,
distance value
Single-point
distance value
Single-point
distance value
Communication Interface
UART, I2C
UART, I2C, I/O
UART, I2C, I/O
UART
Laser Safety Class
Class1(IEC60825)
Class1 (IEC60825)
Class1 (IEC60825)
FDA Class I
---
Package Includes:
1 x TFMini-S Micro LiDAR Distance Sensor
1 x Cable
1 x QC card